Manning and District Early Childhood Development
Community Coalition
​​​​​​​​​​​​While EDI results did not provide service providers with information that was surprising, the data did validate what they already knew. The EDI became an important tool for service providers and the coalition to communicate information to parents about their young children's development and early development in general.
In communicating the information, a particular emphasis was placed on the importance of play in developing various competencies.
The community at a glance
The Mackenzie Highway, the only road into the Northwest Territories from Alberta, cuts through Manning. The many truckers who drive through, heading north, bring welcome business to this town of 1,500.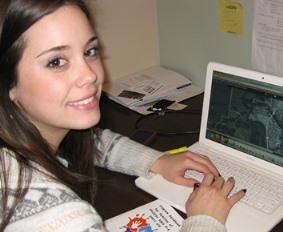 Manning, 100 kilometres northwest of Peace River, is the hub of this northern region which is economically fuelled by agriculture, oil and gas and forestry, including a small sawmill. The few roads in the district are lined with farms carved out of boreal forest dotted with lakes and rivers.
The ECD community stretches 140 kilometres north and east of Manning, encompassing hamlets and Métis settlements such as Deadwood, North Star, Hawk Hills, Keg River, Carcajou, Paddle Prairie, but the population is sparse. The area has a low average income, statistically, but homelessness and other signs of poverty are rare.
EDI baseline results
Young children in the community are doing well in one area of development in particular: only 12 per cent are experiencing difficulty or great difficulty in communication skills and general knowledge. However, there are still areas where many children are experiencing difficulty or great difficulty, such as language and thinking skills (34 per cent).
Strengths
Word of mouth spreads information quickly about anything new in the community.
There are many services for children and families, including a Parent Link Centre, Families First Home Visitation Program, three schools, the Manning Municipal Library, and Family and Community Support Services (FCSS).
A popular playgroup draws up to 40 people from in and around Manning
Residents are very willing to help out neighbours.
Challenges
Many people are isolated, living on farms a long way from the nearest community.
Residents must travel to Peace River or beyond to access many services. For example, women are not able to deliver their babies at the Manning Community Health Centre.
Some children have no contact with service providers before they start kindergarten
People who don't have a vehicle are not able to access services in larger centres.
There is a lack of awareness of the support that young children need during the early years. Children's development is seen as something that happens automatically or naturally.
Coalition action
Collaboration, education: The adjoining ECD communities of Manning and Peace River worked together in a number of ways. For example, early child development professionals from Manning were able to take part in a workshop led by Vince Gowmon, a popular presenter on  the importance of play, held in Peace River in November 2013.
Service providers:  Agencies that serve children or families, such as Alberta Health Services and speech and language therapists, organized  a "Parade of Programs" in Manning Legion Hall to increase awareness about the programs and services available in the community (September 2012).
Resource directory: A Community Resource Directory with contact information for all early childhood programs and services was compiled.
Family fun fair: The fair was held in in the local Battle River Agriculture Hall.
 
The coalition has become inactive since its seed grant ran out.
"People have really started to take notice that early childhood is an important stage of development. Scientifically validated studies pack a lot more punch than anecdotal information."
Cacilia Wardale, former project coordinator
​Updated: April 28, 2014
​