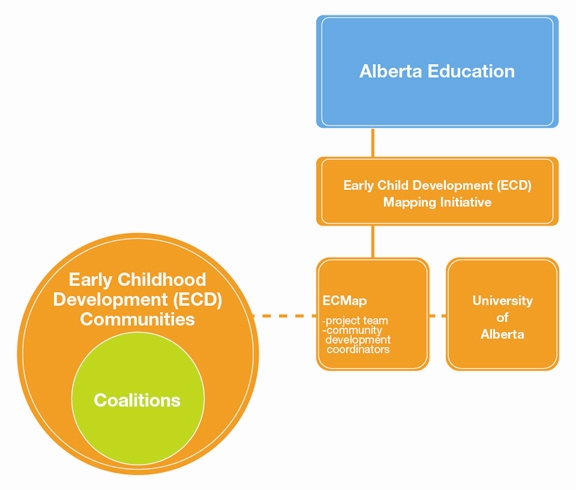 Early childhood development (ECD) community coalitions — or coalitions — are groups of individuals who have come together to actively promote positive early development. Coalitions should be as broadly representative of their communities as possible. They may include:


parents,
educators,
service providers,
non-profit organizations,
community organizations,
policy makers,
entrepreneurs,
representatives of ethnic and cultural groups,
seniors and grandparents,
and other family members.

 
Coalitions are independent organizations and work on behalf of their early childhood development (ECD) community.


What are Early Childhood Development Communities?


Early childhood development (ECD) communities are geographic areas that were established by communities across Alberta, largely through the work of coalitions. Many things were taken into consideration when defining ECD communities, including:


roadways and travel patterns,
where services are located and how they are used,
typography (e.g. lakes and rivers), and
pre-existing boundaries (e.g., municipal and county boundaries).
 


In some cases, rural areas with large geographic areas and sparse populations chose to work together as one ECD community to ensure that every young child is included.


Organizing the province into ECD communities made it possible to gather and map local population-level results on early childhood development. Communities gained a better understanding of how their young children are doing and were able to respond more effectively to meet their needs.


What is the Early Child Development (ECD) Mapping Initiative?


 The Early Child Development (ECD) Mapping Initiative is a five-year research and community development initiative that was led and funded by Alberta Education.


What is ECMap?


ECMap was contracted by Alberta Education to perform specific functions as part of the ECD Mapping Initiative. ECMap prepared maps and reports on early childhood development for communities and for the whole province. ECMap also helped coalitions to interpret and respond to research information and to plan strategies to improve local outcomes. ECMap community development coordinators were based in 11 zones throughout Alberta. They provided assistance to coalitions within their geographic areas. ECMap completed its five-year mandate in 2014.


What is the role of coalitions?


The role of coalitions is to:


define the geographic area for their early childhood development (ECD) community,
raise public awareness of the importance of the early years,
spark community interest in actively supporting healthy development,
receive and share Community Information Packages (containing local research results) with their communities,
interpret and respond to research information,
identify community resources and assets, and
plan local initiatives to support young children and families.