Fort McMurray

Fort McMurray Early Years Coalition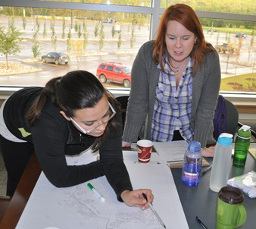 ​​​​Sustainability has been a priority for the Fort McMurray Early Years coalition since its seed grant funding ran out (in the summer of 2013). In the past year, the coalition organized a successful parents' conference and a series of community breakfasts to share early development results. It also conducted a community survey to identify issues and concerns relating to young children and families.
 
The community at a glance
Fort McMurray's population nearly doubled in 10 years, from 42,600 in 2000 to 76,797, according to the 2010 municipal census. The rapid pace of growth has left infrastructure — schools, housing, health, recreation and other community facilities — lagging behind. Fort McMurray is also a service centre for about 30,000 oil sands and construction workers who live in work camps in the region.
 
Average household incomes in this resource-based community are among the highest in Canada, but so are housing and other living costs. Parents work long hours to support their families. Parents employed in the oil plants outside Fort McMurray frequently alternate shifts so one parent is home while the other works. Newcomers, who come from all over Canada and abroad looking for work, are often isolated and unaware of the resources that are available.
 
EDI baseline results
EDI baseline data shows that 38 per cent of young children are experiencing great difficulty in one or more areas of development by kindergarten. Children appear to be experiencing the greatest difficulty in the area of communication skills and general knowledge (41 per cent).
 
Community strengths
A strong economy and high employment
Young growing population (median age 32 years)
High incomes with about 64 per cent of households reporting an income of more than $100,000 a year
A state-of-the-art community recreational, leisure and social centre that also houses the McMurray Public Library
Community challenges
Shortage of housing and high housing costs (single family home average price: $785,000; three-bedroom apartment average rental cost: $2,750 per month)
Lack of child-care facilities and high costs for existing care (about $1,220 to $1,420 per month per child depending on the age)
Shortage of services in general
High staff turnover in service and care sectors
High rents and shortage of space have a big impact on the non-profit sector
Shift work and long working hours affect family life
Coalition actions
Coalition holds regular monthly meetings; the chair position is held for a year and is then taken over by the co-chair, which helps to build continuity.
Coalition has broad representation and includes the public and Catholic school districts, Child Family Services Authority, Alberta Health Services, Keyano College, and the early years care and learning sector.
EDI results were released to the mayor and council, and then to the wider public through a series of community breakfasts.
A successful Parents' Conference was organized in May 2013 with a range of topics of interest to parents with young children, including the impact of stress on early development, strategies to deal picky eaters and instilling good bedtime habits. Subsidies and child-care were provided. A second annual conference is planned for the spring of 2014; organizers are looking for corporate funding to help cover costs.
A survey of 300 parents and other community members identified the most pressing issues related to young children and families. The shortage and cost of child-care, lack of programs for parents and children and the lack of affordable housing were among the top concerns listed.
EDI results and information about the coalition are shared during community events, such as Community Registration Day in mid-September, which showcases the recreational, leisure, arts, community and social resources and services that are available in Fort McMurray.
 
"Collecting EDI data is important because it gives us concrete information that we can take to the municipality and the province and point out where there are problems and where resources are needed."
Robin Elson, coalition co-chair

Updated: April 28, 2014