Athabasca and Area Early Childhood Development Community Coalition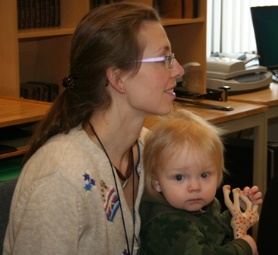 ​Everyday household items were used to create fun activities for a family event to celebrate National Child Day.  A toilet plunger and a roll of packing tape were used to play 'horseshoes' and sticks became goal markers for a hockey game. The Athabasca and Area coalition recycled materials that parents would typically have around the house in planning activities for the November event held at the local library.
The coalition borrowed the idea from its Two Hills County neighbour. The coalition is now partnering with other organizations and existing events to connect with more families and share information about early development.
Community at a glance
The population of Athabasca County is 7,662, according to 2011 census statistics. The ECD community includes the Town of Athabasca (population 2,990), the Town of Boyle (1,000) and smaller communities, including Grassland, Rochester and Smith. The area has a family-friendly reputation, which makes it an attractive place to live for many people who commute to jobs in Fort McMurray.Oil sands development is a powerful force in the local economy. Other industries include agriculture and forestry, with two lumber mills in the area. Another important local employer and cultural influence is Athabasca University, a leader in distance education that serves 38,000 students.
EDI baseline results
Twenty-nine per cent of kindergarten-aged children are struggling in one or more areas of development, which is about the provincial rate. 
Strengths
There are a large number of services, programs and agencies in the Town of Athabasca in relation to population. These include skateboard and splash parks, a new multiplex, hockey and curling rinks and well-used outdoor trails in natural areas.
Challenges
Many families function largely as single-parent families because fathers work away from home in the resource industry.
The vast, sparsely populated regions have limited access to family services and programs, and can lead to isolation.
The coalition is primarily agency based and needs more community members.
Travel distances make it hard for coalition members living outside of the Town of Athabasca to stay connected.
 
Coalition actions
A local elementary school (Whispering Hills Primary School) has provided a 'home' for the coalition. The coalition regularly meets there and the school principal is a core coalition member.
The core group also includes health unit staff, a daycare centre and Family and Community Support Services. Recruitment is a priority in 2014 after the loss of a number of coalition members.
Links have been developed with other coalitions through workshop participation and networking.
A number of materials have been developed to share information about early development, the five 'EDI' areas of development and programs and services in the community. This includes a seasonal placemat that has been distributed at community events, medical offices, playschools, libraries, grocery stores, restaurants and community and recreation centres.  Bookmarks and fridge magnets with information on the five areas of development and a link to the coalition's Facebook page were also created. The coalition hopes to develop a website with information about the five areas of development, activities to promote positive development in each of these areas,  links to other resources and an events page.
Videoconferencing is being explored as a partial solution to keeping members outside the Town of Athabasca active and connected.
  
"The networking that we have done to build our coalition has made it obvious that we have wonderful programs in our community that aren't being fully utilized. The coalition has brought key players to the table to talk about ways to bring young families to programs they need."
Lisa Day, former coalition chair
Updated: April 28, 2014​