Kids in the Early Years Coalition
KITE days raised awareness about the importance of early development.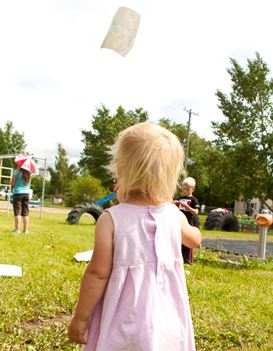 ​​​​The Kids in the Early Years Coalition (KITE) surveyed parents about what they thought made businesses child- and family-friendly. The most common responses were:
washrooms that are available to paying and non-paying customers alike,
children's menus, child-sized portions and healthy food choices in restaurants,
aisles wide enough to fit strollers, and
positive staff interactions.
The coalition responded to the survey findings by creating a family-friendly tool kit for local businesses, which included the survey results, resources such as interactive placemats that could be used in restaurants, and a family-friendly checklist. The checklist includes questions such as: do doors open easily with one hand, are sinks, paper towels and soap accessible to young children and are unsafe items kept out of children's reach. Businesses that are willing to work on becoming more child friendly are given stickers with KITE's logo that they can display on their windows. The family-friendly business tool kit has been shared with and adopted by other coalitions for use in their communities.
Community at a glance 
The Town of Hanna, which is about two hours northeast of Calgary, has close to 3,000 residents. The town is a regional hub for retail, industry and services, as well as for schools, health services and administrative offices. The surrounding area is mainly agricultural, and many residents live on farms. Coal, oil and gas also have a big presence. The villages of Delia and Cessford and other smaller communities lie within the ECD community's boundaries. The whole area has a population of about 5,000. Distance and the sparse population are big issues in this community. Many rural families, for example, are a 45-minute bus ride away from the nearest school.
EDI baseline results
A large percentage of children are experiencing difficulty or great difficulty in emotional maturity (36 per cent). In contrast, only 14 per cent of children are experiencing difficulty in the communication skills and general knowledge domain.
Community and coalition strengths
The coalition has a diverse membership, which includes: the Hanna Learning Centre, Kiddies Korner Playschool, Golden Prairie Parent Link Centre, Alberta Health Services, Town of Hanna FCSS, Starland County, and Hanna and Delia Municipal libraries.
Coalition members who live far from meeting locations can participate through video conference facilities at their local library.
An Early Years Fair is held every year to inform families about the many resources that are available in the community. Local agencies use the event to reach out to families and parents are able to get a assessment of their children's hearing, vision and speech.
The opportunities to network created by the coalition have built professional and community relationships among the different organizations and members involved.
Community and coalition challenges
The loss of the paid coordinator after seed grant funding ran out means that many of the responsibilities will have to be completed with volunteers.
It has been difficult to get parents involved in the coalition.
Finding a time when everyone can attend coalition meetings because of conflicting work schedules and long travel times has been challenging.
It has also been difficult to involve residents of outlying communities, such as Delia and Cessford.
Coalition actions
A newsletter was distributed every month, providing families with information about the coalition, resources and events for children and families, and activities to support the five areas of development. Newsletters were available through the playschool, Golden Prairie Parent Link Centre, Facebook, the coalition's website, and through an e-mail list. This information will now be available on the KITE website.
A parent resource booklet was created listing programs, services and contact numbers of early childhood programs, service agencies, and other resources for families with young children.
A website was developed and is hosted through the Hanna Learning Centre. The site has resources and information for parents about programming in the area as well as information about child development and tips and ideas for parents.
KITE days were organized in three communities: Hanna, Delia and Youngstown. Children were given kites that they could decorate and fly, while parents and service providers received information about the coalition and early child development.
A parent survey was conducted on what makes businesses child-friendly. Toolkits were developed for businesses with resources (including placemats for restaurants, scavenger hunts for hardware and grocery stores and bags with books and toys for other businesses) and a checklist to help them meet the needs of families.
"Kids at Hope" training sessions were coordinated for service providers and parents in February 2012 and March 2013.
A number of materials were developed, including seven-foot tall banners with the coalition logo and the five areas of development, which are displayed in public buildings such as the Delia Library and Centennial Place in Hanna; frisbees, fridge magnets, kick balls and bags with KITE's logo. Bookmarks will also be created with the coalition's logo, website address and information about early child development.
The networking with the different individuals around the table - sharing awareness and knowledge with each other - has been very positive. It has helped us to build professional and community relationships.
 Updated: April 28​, 2014