Community Parenting Coalition
Setting up a Community Parenting Coalition display table at a community event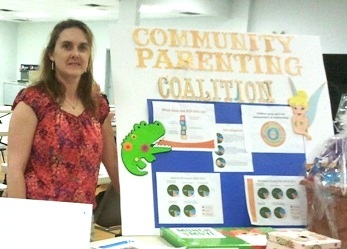 ​​​​The Brazeau County coalition is advocating for more family friendly work policies in the oil industry, a major employer in the county. One of its key messages has been the integral role played by fathers in child rearing. This is a big issue in a community where many fathers are employed by the oil industry and work long hours away from their families. The coalition was spurred into action after inviting a spokesperson from the Alberta Father Involvement Initiative to come and speak to the group.  Coalition members put together information packages and distributed these to oil companies in the area in order to raise awareness about the impact of absentee dads. Oil companies were encouraged to give staff days off to spend time with their children and to look at their employment policies. While no concrete changes have happened to date, the coalition plans to continue to lobby  for more family friendly work places.
The Brazeau County coalition grew out of an existing organization, the Community Parenting Committee that was set up in 2009 by the Drayton Valley and District Family and Community Support Services with representation from education, health and social service agencies.
Community at a glance
Oil dominates the thriving Town of Drayton Valley (population 7,000). Surrounding communities, such as Lodgepole and Cynthia, have their fortunes tied to energy as well, while other villages, hamlets and rural areas throughout the county remain connected to agriculture and logging.
The county faces the challenges that are typical of a transient, boom-and-bust, oil-based economy, which make it difficult to build strong communities. High-income energy job opportunities create staffing shortages in lower paid but essential services, such as child care. Households function like single-parent families, while one parent, usually the father, works away from home.
EDI baseline results
Forty-three per cent of young children are experiencing difficulty or great difficulty in community skills and general knowledge. Overall, the number of children experiencing great difficulty in one or more areas of development is 34 per cent, above the provincial norm of 29 per cent.
Strengths
Drayton Valley has many resources, programs, and services, including a municipally run childcare centre.
Incomes are generally high and the economic outlook for the area is strong.
The coalition has strong representation from local agencies and service providers in all major sectors including: health, education, parks and recreation and social services. 
Challenges
There is a lack of programs and services in rural areas. Rural families can also feel isolated. More information is needed about their needs and concerns.
Families are often unaware of the supports and services that are available for preschool children and families. Many areas in Brazeau County lack Internet services.
Change over in staff and representation on the coalition means  a lot of time is spent catching up and providing background information at meetings.
Coalition action
Education: Two "Kids Have Stress Too" workshops were organized for parents in Breton and Drayton Valley. Two workshops were held for parents and professionals on play with popular presenter Vince Gowmon. Admission for the play workshop for parents was free of charge and families got free passes to a local indoor swimming facility.
Resource directory:  A handbook of community resources with the contact information for all local agencies was created. Four thousand copies distributed in people's mailboxes in the Town of Drayton Valley and Brazeau County.
Parent survey: Parents were surveyed during community events on how far they lived from services and how they accessed services.
Community results: EDI results were first shared with educators, preschool workers and local civic leaders. The information was then presented to parents and community members at a Santa's Workshop in November 2012 in Drayton Valley. ECMap information and EDI results were displayed on posters and take-home handouts. Passports guided children to five activity stations, one for each are of development, which were sponsored by different agencies and featured prize draws. Results were also shared with preschool parents in Breton in February 2013.
"We delivered information packages to some of the big stakeholders out there. Our goal was to encourage them to give their male staff days off to spend time with their kids."
Lorna Person Hoofd, coalition chair