Strathcona County Early Childhood Development Local Coordinating Committee
Young children play at an Adrossan Recreation Complex preschool program.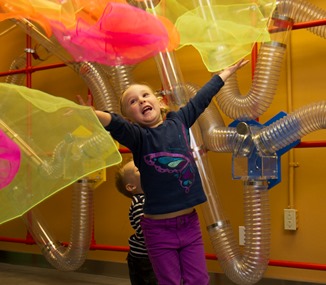 ​The Strathcona coalition is unusual in in that it represents two early childhood development communities: the rural area of Strathcona County, which butts up against the eastern edge of Edmonton, and the urban community of Sherwood Park, the equivalent of a city within the county.
EDI data is having an impact on preschool policies and programming decisions made in Strathcona County, including those related to libraries, public health, FCSS (Family and Community Support Services), school boards and parks and recreation. In January 2014, for example, the county launched a play-based program for three and four year olds at the Adrossan Recreation Complex.
The county invested $350,000 in the enriched program in response to EDI results showing that one in four young children are struggling in their emotional, social and communications skills and general knowledge development. The program was located in Adrossan, a rapidly growing hamlet popular with young families and few preschool activities. The county partnered up with the School of Public at the University of Alberta to study the effectiveness of the new program in promoting positive early development.
Two communities at a glance
Sherwood Park is a community of nearly 65,400 residents, who live mainly in single-family homes. The average income is $9,000 above the provincial average. Its proximity to Edmonton means many residents commute on a daily basis.
 
Strathcona County has a rich industrial base, including refinery row where the county meets Edmonton city limits. In addition to Sherwood Park, the county encompasses seven communities from North Cooking Lake (population 40) to Ardrossan (population 434). Another 27,400 people live on acreages and farms. Some of the furthest reaches of the county are a 45 to 60 minute drive from Sherwood Park, so transportation, accessibility, and isolation are issues.
EDI baseline results
Twenty-two per cent of young children in Strathcona-Rural are experiencing great difficulty in one or more areas of development and 19 per cent in Strathcona-Sherwood Park., below the provincial rate of 29 per cent. 
Strengths
EDI information is being used to inform programming decisions. Parent Link Centre staff, for example, used EDI results to help them choose the neighbourhood parks where weekly summer programs would be located in 2013. Schools, recreation and the library decided to focus on emotional and social development, an area where children are experiencing difficulty.  Their programs promoted unstructured play and provided parents with tips on supporting play and information about early development. 
Service providers are collaborating more closely. For example, the Parent Link Centre and the county's  recreation, parks and culture department are working together on Play Days events that offer recreational opportunities to families on limited incomes. 
The coalition has roots in a larger group of mostly service providers that got together to  share information and discuss trends for about ten years. This gives the coalition a greater sense of longevity and sustainability. 
The coalition is large and diverse, with professionals and community members, including: Infant and Preschool Services with Child Adolescent and Family Mental Health, parents and grandparents, a child development consultant, an early literacy consultant, a principal, a kindergarten teacher, a day care operator, Strathcona County Family and Community Services, and preschool recreation programmers.
Meetings were organized in both the daytime and evenings to make them accessible to service providers and working parents. Over time, parents have indicated a preference for being involved in short-term, specific projects or events, rather than attending on-going planning meetings.
Challenges
Connecting with community members and reaching families can be much more difficult in rural areas.
The coalition represents two early childhood development communities with distinct needs.
Coalition action
The Strathcona County Parent Link Centre was chosen as the contact point for information about the coalition. The centre is easily accessible and has both rural and urban locations.
Online training on emotional and social development is provided on an ongoing basis to frontline workers.   The training, offered through the non-profit Talaris Institute, has been taken by nurses; recreation and preschool instructors; Parent Link, family day home and library staff. Participants receive information and tools on how to promote these areas of development in their work and how to teach parents these skills. 
A "First 2000 Days Resource Fair" was held at the Sherwood Park Community Centre in May 2013. Children enjoyed interactive play stations while parents learned about early development and about services in their community. About 400 people attended the fair, which will hopefully become a yearly event. The next one is scheduled for May 31, 2014.
Communication materials, such as banners and postcards, were produced and distributed. An "I am" series of postcards provides information about the typical developmental skills that children acquire at different ages from the point of view of the child.
In terms of our biggest accomplishment as a result of the project: there is increased connectedness. Now we do some planning together to see how we can enhance each other's work. Before we were just reporting to each other. 
Lori Prediger, coalition chair
Updated: April 28, 2014