Strong, caring communities help to create the supports all young children deserve and need to thrive and do well in their lives.​​​​​​


 Engagement


Community engagement involves a broad cross-section of community members working together for the well-being of their young children and families.


 Why are communities important?


The communities in which children live have a fundamental impact on their development. Communities, as well families and society as a whole, create the early environments that affect brain development and set the course for children's futures.


Community engagement is an important aspect of Alberta's Early Child Development Mapping Initiative. Communities are provided with research information about how their young children are developing, so that they can better understand what is working well and what needs to be improved in their communities. Communities also contribute their knowledge and understanding to the information that is gathered about early development in Alberta.


 How are communities organized?


Geographic areas are organized into 'early childhood development' or ECD communities. ECD communities work through their coalitions.


How to involve community members


How can coalitions involve members of their community?


Identifying potential members
One of the first steps in community building is identifying potential members. Who will come to the table? Who needs to be there? Who are the people and organizations that influence and have an interest in early childhood development in the community? What skills and abilities can be tapped in the community? What perspectives and specialized knowledge would be useful?
A list of potential members can begin with people who are most directly involved with early development and move outwards to those whose influence may more indirect but still significant.
The list may include:
parents,
extended family members, including grandparents,
child-care providers,
foster parents and foster parent organizations,
preschool teachers and preschool organizations,
teachers and school administrators,
medical professionals, including doctors and public health nurses,
midwives,
social workers,
family support workers and services,
mental health clinicians,
municipal government officials and employees (including planners, elected representatives),
playgroups,
recreation services,
colleges and universities (early child learning and care programs and research units),
community leagues,
volunteer groups,
spiritual leaders,
chambers of commerce,
businesses,
police,
multicultural associations, and
arts organizations.


Membership in the coalition should be revisited on a regular basis to ensure that it is as diverse as possible, and includes non-traditional partners and a breadth of community knowledge, skills and perspectives. Coalitions may wish to consider the following question as a standing meeting agenda item: "Who is missing from the table/conversation?"


 Identifying local champions


Identifying and getting 'local champions' on board are key to successful community mobilization. In Australia, where the Early Development Instrument (EDI) was first implemented nationally in 2004, the availability of local leadership has been a determining factor in whether communities take action in response to their EDI results.
Local champions are not necessarily the most prominent or visible people in a community. They are the connectors in communities. They are the people with wide circles of relationships, who are trusted and respected and are able to motivate others to work together.


Making connections


There are many ways to connect with potential collaborators, including:


one-on-one conversations and meetings,
organizing group presentations,
planning events (and getting other partners involved),
setting up booths and displays at conferences and community events,
addressing events and meetings of service providers, teachers, parent groups, business organizations, etc.,
attending community and organizational events and networking with people informally,
communicating through social media,
doing media interviews (TV, print and radio), and
placing notices and articles in newsletters and other publications.


 Further resources


Books


Tracy Smyth and Tammy Dewar. (2009). Raising the Village: How Individuals and Communities Can Work Together to Give Our Children a Stronger Start in Life. Toronto and New York: BPS Books. Find out more about this book: http://www.bpsbooks.com/raising-the-village-tracy-smyth-tammy-dewar
Mike Green with Henry Moore and John O'Brien. (2009). When People Care Enough to Act. 2nd edition. Toronto, Ontario: Inclusion Press.  
Paul Born. (2008). Community Conversations. Toronto, Ontario: BPS Books.


Guides


AEDI National Support Centre. Building better communities for children: Community Preparation and Implementation Guide. Australia: AEDI National Support Centre.
http://www.rch.org.au/emplibrary/australianedi/AEDI_Com_Guide.pdf
Organizations
Early Years Community Development Institute. (Vancouver, B.C.) http://www.eycdi.ca
Planning involves setting visions and goals, sharing community results, identifying community assets and developing an action plan. It may also involve applying for a seed grant.



Develop terms of reference
Establishing a shared sense of purpose and structure is an important first step in moving community groups forward.



What are terms of reference?


Terms of reference describe the purpose and structure of an organization or group of people who have agreed to work together to accomplish a shared goal. They set out a road map for what will be achieved, by whom, how and when. Terms of reference define:
vision and mission,
goals,
structure, including membership, governance and decision-making
available resources, and
timelines
Why are they important?


Terms of reference provide organizations with a shared understanding of what they are about and what they aim to accomplish. Getting this down in writing is critical to moving organizations forward and developing workable structures and clearly defined action plans.


What does a basic template look like?


It could include the following information:


Background: a brief description of the background to this organization and why it exists.
Vision and mission statement: A compelling vision statement can inspire others to get involved. It expresses the dream of an organization. It should be brief and easy to understand and communicate. A mission statement is the what and why. It is more action oriented. It should be concise and clarify the organization's overall purpose.
Goals: This can include deliverables and timelines.
Scope: What are the bounds of responsibility and authority of this group? What does it need to address and what is outside its area of concern?
Membership: What is the criteria for membership? Are there any restrictions? What is the process for selecting members? What is the role of members? Can groups as well as individuals join? Are there different levels of membership?
Resources and budget: What resources does the group have at its disposal (space, funding, staffing, etc.)? What is the financial budget?
Governance or decision-making: How will the group be organized? What are the different roles and responsibilities (e.g. chair and vice-chair)? Will there be committees? If so, what are their roles and responsibilities? How will decisions be made (voting, consensus, etc.)? Is there a requirement for a certain number of people to be present to pass a motion (quorum)?
Meetings: How often will meetings be held, when and where?
Reviewing terms of reference: How often will they reviewed, by whom and how?


Additional resources


 The Community Tool Box http://ctb.ku.edu/en/default.aspx
Collecting information about community assets will help coalitions to better understand how well their communities support early development and will contribute to important research.

Young children's development is influenced by the communities in which they are raised. Understanding the impact of community on early development can:
provide important insights into early development results (specifically the Early Development Instrument or EDI that is used to measure the development of kindergarten children),
identify strengths and gaps in environments, supports and services,
help communities — and decision-makers and policy-makers at all levels — to respond effectively to local needs,
and advance research about the relationship between community environments and child development.



Communities are the researchers


Communities know their local environments best. They are in the best position to list and analyze the things in their community that are affecting their young children's development, positively and negatively. Communities collected this information by working through their local early childhood development (ECD) coalitions. By the spring of 2014, coalitions had identified more than 23,100 resources in their communities. These were incorporated and mapped in the LiveAtlas.
Identifying community resources


ECMap developed a framework to guide coalitions through this research process.


Questions
Begin with these questions:
What influences early development in our community?
What are the positive influences?
What are the negative influences?
What would we like to see in our community that could improve or better support early development?


Note: community influences can be positive or negative. ECD community assets are things in the community that positively influence development and are valued by community members.
Categories
Keep these three categories in mind when you are looking at the things in your community that influence early development:
community features: natural (parks, forest, rivers and hills) or built (such as recreation centres, libraries, places of worship, walkways and playgrounds),
community characteristics: community qualities related to human activities, such as social and economic circumstances, population density, industrial activity, social cohesion (unity and respect for difference) and the histories and cultures of your community, and
community resources: services, programs, people, organizations and activities that affect or may have the potential to affect child development.
Steps
There are three basic steps in the community consultation process.


Engage
Engage the community in tackling the research questions.
Create a list of the people in your community who have a direct or indirect influence on early development.
Contact as many of the people on the list as you can. Invite them to consider the four questions through big groups, small groups, one-on-one interviews, over the phone, by e-mail or other ways.
Keep notes of your discussions and findings.
Ask your ECMap community development coordinator for help or ideas (see contact list).


 Reflect
Reflect on what you have heard from the community. Invite the people that you have consulted with to join you if possible.


What things in our community influence early development?
What are our community assets (things that affect early development positively)?
What things have the potential to become community assets?
What are the creative ideas that we see emerging? 
Share
Share your findings with your community and consider how the resources in your community - or the lack of resources - impact the Early Development Instrument (EDI) results in your community and the overall well-being of young children and families.


Additional information
ECMap
An in-depth tool kit, Discover your early childhood development (ECD) community assets: A tool kit for coalitions in Alberta, is available to help coalitions to gather information about their community assets. Download a PDF copy.
A four-page information sheet, Discovering your early childhood development community assets, outlines the basic process. Download a PDF copy.
Other sources
The links below offer a wealth of inspiration. You can learn more about how other communities have identified their community assets and translated their knowledge and connections into action.
Tamarack – An Institute for Community Engagement is a not-for-profit, Ontario-based organization (http://tamarackcommunity.ca/index.php). Visit their Asset Building resources page to help you get started (http://tamarackcommunity.ca/g3s22.html).
The Coady International Institute is based at St. Francis Xavier University in Antigonish, Nova Scotia. A 22-minute film, By Their Own Hands, profiles how community assets have been crucial to making community-driven change in the small Nova Scotia community of St. Andrews (http://www.coady.stfx.ca/themes/abcd/publications/by_their_own_hands/).
The University of Kansas Working Group for Community Health and Development has developed a fine resource, The Community Tool Box (http://ctb.ku.edu/en/default.aspx).
The tool box contains great ideas for engaging your community in a discussion on community assets, including a wide range of consultation methods you might want to try! Other good resources are Assessing Community Needs and Resources ( http://ctb.ku.edu/en/tablecontents/chapter_1003.aspx) and Group Facilitation and Problem Solving (http://ctb.ku.edu/en/tablecontents/chapter_1016.aspx).
The Asset-based Community Development Institute is based at Northwestern University School of Education and Social Policy in Evanston, Illiniois, USA (http://www.abcdinstitute.org/).
The institute shares lots of resources on community assets, from worksheets to use with your coalition and community members to a board game that helps identify possibilities and potential in negative situations. Check out this collection of tools for working through the asset process: ABCD Toolkit (http://www.abcdinstitute.org/toolkit/). Download readings on how others have approached community asset processes (http://www.abcdinstitute.org/publications/downloadable/).
Community Building Resources is located in Spruce Grove/Devon, Alberta (http://www.cbr-aimhigh.com/index.htm). Their resource page has a list of invaluable books and websites, which focus on building community by exploring assets (http://www.cbr-aimhigh.com/Resources%20and%20Links/resources_and_links.html).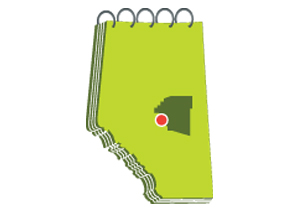 How results are released
Preliminary community results were released to coalitions through Community Information Packages (CIPs) that were prepared for each community. Baseline (2009-2013) comunity results were released to coalitions in April 2014 in the Community profiles of early childhood development in Alberta report. Each community profile contains the following information:
Early Development Instrument (EDI) results on the development of kindergarten children in the community,
demographic and socio-economic status (SES) information for the community, and
general information about early childhood development and why it's important.


Community data was released to coalitions first and then posted on this website. Coalitions were responsible for sharing the results with their communities.
Laying the groundwork
Coalitions can do a number of things to prepare and plan for receiving their community results:
build internal capacity,
develop a strong membership base that represents a broad cross-section of the community and taps a wide range of skills, knowledge and expertise.
Raise internal awareness
Make sure that coalition members understand:
the importance of early childhood development and how it works,
the key role that communities play in early development,
why collecting information on early development is important and helpful,
what kind of information will be released (the EDI and SES),
and how communities can use this information to improve outcomes for their young children.
Raise public awareness
Increase public understanding of the above. This will make it much easier to engage the broader community when you share your community results. The public can be informed through meetings, forums, one-on-one interviews, presentations, community events, newsletter articles, newspaper articles and media interviews.
See below for tips on dealing with media and Media tip sheet for coalitions PDF document.
Gather information about community resources and conditions that may affect development
Collecting community-based data will provide a context for the results. It will help communities to better understand and interpret their results. Coalitions may want to explore some of the following information:
What factors in the community support families and young children?
What factors in the community negatively impact families and young children? What's missing in the community?
What services and resources are available for families? How accessible are they? How well used are they?
What socio-economic conditions may impact early development (for example, a high immigration rate, high out-migration, an aging population, unemployment, a sparse population)?
How does the natural environment and natural conditions affect families and young children (such as climate, distances, geography)?
Developing a communications plan
Setting goals and objectives
What does the coalition aim to accomplish with the release of community results? What are the goals and objectives? Figuring this out is the first step in developing an effective communications plan. Goals and objectives will vary from one community to another, and may include:
helping community members to understand their roles in raising young children,
partnering with other organizations to develop local action plans in response to the results,
promoting collaboration among service providers;
informing parents and community members, so that they understand how young children are doing locally, where they are developing well and where there is room for improvement;
encouraging service providers and government officials to use the results to inform planning of local programs and services;
urging planners to develop child- and family-friendly neighbourhoods, transportation systems and other amenities;
encouraging early childhood educators and care providers to use the findings in developing programs and curricula.
Identifying the audience
Who are the key people and organizations that need to receive the information? Why do they need to be engaged? Are there key people whose 'buy-in' is critical right from the start (for example, the mayor and council)? Does the list include the decision makers in organizations, as well as frontline staff? What ethnic, language, religious or special interest groups should be included? Are there political factors that should be considered? The list should be as inclusive as possible. It should also be prioritized in order of importance.
The list may include:
parents,
educators (school superintendents, school principals, teachers, including kindergarten teachers who collect EDI information)
early childhood educators and care service providers (day cares, family day homes, nursery schools, etc.)
community organizations
health services (including maternal and child health),
government representatives and officials,
family support services,
public health and community development officials and staff,
multicultural groups,
local chambers of commerce,
early years university and college programs,
local faith-based organizations.
Enlisting local champions
Enlisting people and organizations that are respected and well-connected in the community can be enormously helpful in generating interest in the results and support for local action. 'Local champions' may come from a wide range of backgrounds and sectors, including:
families (parents, grandparents and other caregivers),
local government,
education,
health,
community organizations, and
existing early years initiatives.
Planning effective strategies
What are the most effective strategies for reaching key audiences? Different strategies work with different audiences? A combination of strategies can be used. They may include:
presenting the results at established meetings and events (such as school parent council meetings, community league meetings, chamber of commerce dinner meetings, etc.),
organizing special forums or events,
telephoning and speaking with relevant people,
face-to-face meetings,
e-mails and letters,
writing articles,
posting information on websites.
Getting out into the community and meeting people on their own turf can be particularly important when dealing with non-traditional audiences (e.g. businesspeople, politicians and seniors), and minority groups (e.g. immigrants and different cultural groups).
Developing tools
What tools will the coalition use and need to develop to reach its target audiences? Tools may include:  
PowerPoint presentations,
articles that are posted in newsletters and on websites,
electronic mail outs,
printed handouts,
ads,
display booth materials.
Making an inventory of resources
When developing strategies and tools, it's a good idea to make an inventory of the resources that the coalition already has and can realistically access. Resources may include:
professional and personal resources (e.g. graphic design or marketing skills, grant writing experience),
meeting space available at no or nominal cost,
a website,
a newsletter,
electronic mailing lists,
a photocopier,
access to community bulletin boards
free advertising space,
Assigning responsibility and setting timelines
Assigning people to tasks and setting deadlines moves the plan forward into action. Which members of the coalition are taking responsibility for what tasks? Will local champions take on some of the work? Presenters will need to have a good understanding of the information that is contained in Community Information package, including EDI and SES data. They will also need to be able to explain it.
Delivering presentations
How can the information be presented in a way that is most meaningful and relevant to targeted audiences? How can presentations build upon what specific audiences already know and care about?
The presentation should include an overview of:
the importance of early childhood development,
ECD data collection and mapping in Alberta,
the Early Development Instrument (EDI),
socio-economic status (SES), and
discussion questions that can help in the interpretation of data.
Coalitions may find this Discussion Questions handout to be useful.
Contacting media
Pitching the information
It helps to have a newsy, interesting angle to pitch to local media. For example: Is there something unusual or particularly interesting about the results themselves? Is there a special event planned to share the results that would provide good photo ops or television footage?
Crafting key messages
Key messages will vary from community to community. Are there key messages that the coalition wishes to deliver about the results? About local early development? About community supports for families and young children? About possible action plans?
General key messages may also be included. For example:
The early years from birth to age three are critical to children's brain and other development, and have a lifelong impact on health, learning, relationships and well-being.
The payoffs of getting young children off to the right start are enormous in terms of prevention and remedial cost savings by reducing school drop-out rates, juvenile delinquency, obesity and many other chronic health problems, addictions and so forth.
Communities have a vital role to play in promoting healthy child development. Strong communities with good programs and supports can help to overcome the impact of poverty and other risk factors.
Although most young children are developing well, a significant percentage are struggling. In Alberta, about 27 per cent of kindergarten-aged children are experiencing great difficulty in at least one of five areas of development. In Canada, it's 25 per cent.
Early childhood development data collection and mapping will provide a picture of how young children are developing in communities throughout Alberta and across the province, and the factors that may be affecting their development. Communities will then have a better idea of how their children are doing and how they can plan effective responses to meet local needs.
The Early Development Instrument (EDI) and early development mapping has been widely used across Canada since 2000 (including in Ontario, Saskatchewan, Manitoba, British Columbia and Prince Edward Island).
For more information about developing key messages, download: Getting the message across about early childhood development.
Getting to know the local media
What are the local media outlets? What are their audiences? What type of programming do they offer?
Writing a press release
Press releases should be brief, no more than two or three paragraphs to make the pitch and get across key messages. A catchy headline introduces the first paragraph, which sums up the story and answers the five Ws (who, what, when, where and why). The date should be always included and contact information: name(s), position, phone, e-mail and address. Include any relevant background information (e.g. the CIP, a coalition brochure, a brochure about early childhood development).
Press releases can be e-mailed, faxed or mailed.
Who to contact and making contact
It's important to find out who the assignment or news editor is. When dealing with larger media organizations, find out what reporter would typically cover a story related to early childhood development and communities (such as the education or health reporter). What columnists or broadcasters would be interested as well? Press releases can be sent to more than one contact in larger media outlets. Follow up with a phone call.
Download Media tip sheet for coalitions used at a Working with Media coalition workshop on Sept. 25, 2012.
Further resources
National AEDI Implementation: Community Preparation and Implementation Guide. AEID National Support Centre on behalf of the AEDI Partnership, Australia.
http://www.rch.org.au/emplibrary/australianedi/AEDI_Com_Guide.pdf